08.10.2011

Although I never had a chance to meet you, I would have loved to. You've been very inspiring to me and, I hope, lot of other young people. I know you probably won't read this.

I never thought I would write this kind of a post before at least 2030, or at least, I hoped. Well, your day has come, too soon I might add. I saw Woz on CNN right after the news broke and I saw the sadness in his eyes. I knew there was something wrong when I saw the "Reserved" seat in the video of the Apple Event on Tuesday. I hoped that it was not true when I woke up and saw it on Twitter, I hoped that somebody had hacked the AP's account. But when I scrolled up, I had a tear in my eye.

Although I switched late, when I got my first iPod touch (1G in March '08), I was stunned at the ease of use. The problem with the iPod touch, at least for me, was that it didn't have an internet connection everywhere, unlike an iPhone. That's why I got an iPhone 3G less than a year later, in February '09.

From then on, I wanted a Mac. I got MacBook Pro in mid-2010. I now have an iPhone 4 and I will get an iPhone 4S on launch day.

Shortly after getting my iPhone 4, I met Woz in Hemer, Germany at the Zurich cup. I met him and Janet in Berchtesgaden for this year's just last weekend. He's a really great guy. He taught me how to ride a Segway, it was a really great experience. Riding a Segway for the first time is like using an iPhone for the first time, just magical.

I do however admit of using a Hackintosh right now, simply because I don't have the money for buying a MacPro right now and I need some power and my 2 screens.

There's some much more I could write, but I think you get the idea.

You remember me from Facebook?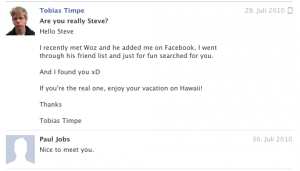 (note to readers: Yes, this is real!)